About Us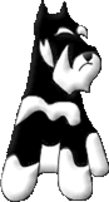 Hi, we are Carl & Patricia Senser, and as fate would have it, we met 45 years ago. Little did we know that our mutual love for animals would develop into our breeding program today.

The first breed of dog we ever bred was the Collie and there have been many other breeds that we have done over the years. We showed purebred cats, yes cats, for some time and received National and Regional awards for our Siamese Cats in the late 80"s early 90"s. Cats soon led us back to dogs, were our hearts are really happy.

We purchased our first pair of Miniature Schnauzers about 30 years ago and they convinced us that they were the breed to work with. Strong bodied, strong mothers, hardy pups, great with children and well suited for family life and not too much exercise needed. They are also non shedding- although grooming and clipping is required, and most people with allergies can tolerate a Miniature Schnauzer just fine. But really, who can resist that great face with the distinguished eyebrows and beard. Such a handsome breed.

We do not inbreed, which is the practice of breeding closely related dogs together. (mother to son, father to daughter) We prefer to line breed distant relatives and do a lot of outcross breeding for health and stamina. You will find that the best show dogs are very inbreed, but they also tend to not live very long. Inbreeding allows you to duplicate a look of a dog and continue to win in the ring but it also brings out the best and worst of the health issues that may be in the line. Breeders sometimes do it to be sure the line is clear of any health issues. Ribbons are nice to show but we would rather breed for sturdy, healthy, and loving personalities. Most people are looking for pet companions and that is what we try to provide. Although we do not show our dogs, we breed for the standard using lines with show champions in them (most of the time) but not to closely or heavily.

We do not take our breeding lightly and screen to be sure our pups are going to good homes. We do not sell to pet stores, allow breeding of our pet pups or broker our pups. We register exclusively with AKC (American Kennel Club) as that is the only registry of any value. We breed for the usual colors-black, black & silver and salt & pepper, but we also breed for Liver, White, Liver Pepper, Liver & tan and Parti colors. These other colors are registerable in AKC but not YET showable. They will be at some point I am sure. They are shown in Europe. And Yes, these colors have existed since the 1950's, but many breeders have been culling them from the lines rather than admitting they were getting these colors. These colors came from the poodle and affinpinchers that were used to make the Miniature Schnauzer. The colors came naturally and are not some sort of new mating.
We give a one year genetic guarantee on our pups. We do not crop ears on our pups. If you want them cropped, it will be up to you to find someone who will do it. We do not leave tails on our pups. Pups will have the appropriate shots for their age, be wormed and will be micro chipped before they go home at 8 weeks. They are in our home and exposed to all kinds of noises and people on a daily basis. They are handled regularly and by 8 weeks they are very ready for their people. You can see our full contract on the Our Contract page.

Our pet puppies are sold with limited AKC registration. We sell breeder pups at our discretion. **
We accept deposits by personal checks, cash or paypal and Venmo. Placement on the deposit list will be in the order the deposit was received for the particular sex and color desired. Your choice is determined by your placement on the deposit list. For instance, if you are 2nd person to place a deposit on a salt & pepper female, and there are three salt & pepper females available in one litter, you will not be able to choose your puppy until the 1st person who placed their deposit has chosen theirs. If the 1st person decides to wait till 5 weeks to make his selection, then you will have to wait till he makes his choice. Then you will have your choice of the two remaining pups. The 3rd person would get the last one or wait for another litter if they totally do not like the last pup. Selection of puppies is not made between litters more than 5 days apart. In other words, we are not waiting for future litters to decide if something better may come along. I do not allow selection to be put off longer than 5 weeks. That way everyone has time to select a pup well before the 8 week mark. Be sure you have considered thoroughly before depositing as DEPOSITS ARE NOT REFUNDED unless I can not provide a pup in ONE YEARS time. This has never happen, but just in case, we want it to be clear.
Because of all the Covid scares, we are not having open visits to the Nursery any more. It is safer for us and them not to have the extra germs coming in the door. You can meet your pup at 5 weeks in our home, just not in the Nursery room.
Sincerely, Carl & Patricia Senser